British Values
British Values
8 May 2021 (by admin)
This half term we are revisiting the concept of British Values.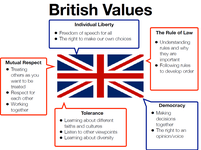 At Drighlington Primary School we believe that at the heart of a modern, ever changing community is the acceptance of British Values. This half term, in our Care, think and learn assemblies we will cover mutual respect, tolerance, democracy, rule of law and individual liberty. This forms part of our vision to prepare children to be responsible and caring citizens.
We will have a whole school celebration day on Friday 21st May, and encourage children to wear red, white and blue, the colours of the Union Jack.