Maths
At Drighlington Primary School we apply a 'mastery' approach to our teaching of mathematics, with the belief that all children can achieve well. We work closely with local maths hubs and other schools to develop the best learning strategies to enable children to reach their full potential.
Early Years
In Early Years the children learn about number and other mathematical ideas, such as shape and measuring, through their environment. They are given opportunities to explore concepts in all areas of their classroom provision. In Reception, children focus on one number at a time, to develop a deep understanding which can be built on in later years. The children use concrete resources, such as Numicon and everyday objects, and are encouraged to make jottings of their ideas as they develop their number formation.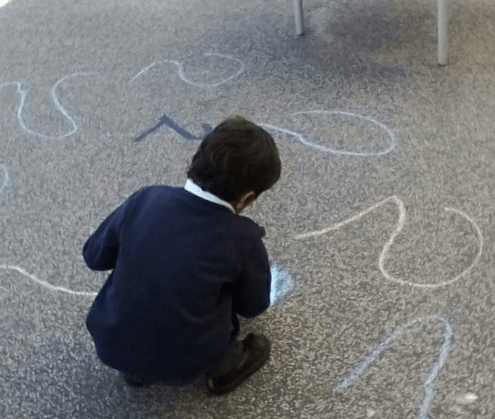 Key Stage One and Two
Small Steps
We follow the White Rose planning scheme which breaks each learning objective down into small steps. Children develop a secure understanding of each step before moving on. The steps are carefully sequenced to ensure that new skills are built on prior knowledge.
To access the yearly overview of units for each year group, please use the links below:
Same Day Intervention
In our Key Stage One and Two classes we use a strategy called Same Day intervention. The children are taught together at the beginning of the lesson and given a short task to check their understanding. While the children are at assembly, teachers assess children's understanding to see who needs more support and who is ready for further challenge. After assembly, the children receive the right work to ensure they make good progress.
Concrete, Pictorial and Abstract
We use a range of concrete resources throughout the school to develop children's understanding of mathematical concepts. These include everyday objects, numicon, base ten equipment and place value counters.
When children are ready, these concrete resources can be used alongside pictorial representations of the concept, such as bar models and arrays (click here for more information about bar modelling.)
Only when children are secure in their understanding, are abstract concepts or representations introduced.
Our calculation policy is based on this concrete, pictorial, abstract approach.
Please click here for our Addition and Subtraction Policy.
Please click here for our Multiplication and Division Policy.
Fluency
We believe that it is essential for children to be fluent in basic number facts in order to free up their thinking space for more complex processes. Every maths lesson starts with a 'Fluent in 5' session, where children focus on key number facts and basic arithmetic skills. Children are encouraged to choose the most efficient mental or written methods.
We use an online programme called Times Tables Rockstars to develop children's knowledge of multiplication and division facts. Children use this programme in school and are also expected to access it at home to regularly practice this important skill. To access Times Tables Rockstars click here (children will need to get their login details from school).

Reasoning and Problem Solving
Children are given opportunities to apply their mathematical understanding to problems and challenges in every lesson. They work with talk partners to explain their reasoning using mathematical vocabulary. Teachers encourage children to apply a growth mindset, showing perseverance and resilience when things get really tricky.
Please click here for our Mathematics Policy.
Click here for Maths subject plans.