PTA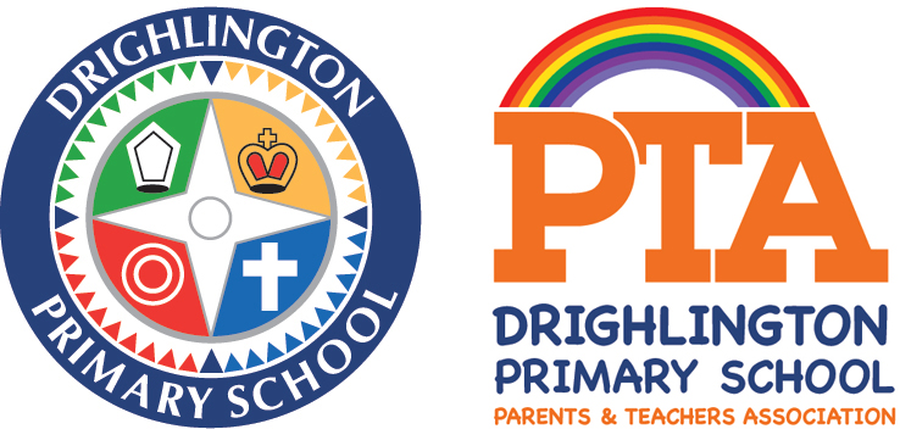 PTA contact details: 07737 804836
Please refer to the other PTA pages on this website for news about our aims and achievements.
The PTA at Drighlington Primary are a friendly bunch, made up of a main committee who attend meetings and plan events, plus a small number of willing volunteers who help out with events hosted to raise money for the children of the school. They all work very hard to meet the fundraising target of £5,000 each year for the school.
The money is used in a variety of ways and in the last two years they have part funded the school trim trail and all weather pitch. This academic year they are raising funds to purchase IPads for each year group to be used during lessons.
The events that are organised have a very positive impact on the relationships between the parents, children, staff in school and the wider community. In the last 12 months they have hosted Breakfast with Santa, a ladies pamper and shopping night, 4 school discos, a Christmas Fair, Easter Fair and that only covers about half of what they do.
The PTA relies on volunteers and as children reach their final year, so do their parents so they are always looking for new people to join. Some work part-time and some work full-time. None are specialists in fundraising however all have different skills to offer.
If you would like to get involved there are lots of small ways you can help - from designing or distributing letters, baking buns, helping out on a stall or clearing away after an event. You don't have to attend PTA meetings and be on the committee – instead you could be added to the volunteer list and help out as and when you are available. There is no pressure.
Hillary Holmes, PTA Chair says "PTA's and similar organizations can sometimes have a reputation of being cliquey but that really isn't the case at Drighlington Primary. We are very welcoming and always like to see a new face. Whatever time and help someone can offer is very much appreciated. It isn't just limited to mums who help out either – we've had dads, grandparents and members of the community who aren't linked to the school helping out in the past. The added bonus is we have our planning meetings at the Spotted Cow!!"
If you would like to find out more about helping at our events or joining the PTA committee please contact on 07737 804836/07962 372142, email drighlingtonprimarypta@yahoo.com or pop in to the school reception for more information.
Fundraising (updated 11.5.14)
Our new balance is £4,613.43. We are on track to meet our £5,000 target. Hooray!
Fundraising (updated 26.2.14)
Our fundraising target is £5000. So far we have raised £3826.77! Thank you to everyone who has supported us.
What is the PTA?
PTA Aims
We have an active PTA who work with the school to organise social and fund-raising events. The PTA raised funds to support the purchase of our new trim trail. We are currently raising money to support the development of playgrounds.
What does the PTA do?
The PTA work very hard at raising money for the school because the school budget cannot always reach as far as we would like to to go. Money raised is used in many ways, such as purchasing equipment, and providing extra opportunities for the children - all aimed at improving children's enjoyment at school. The events that are organised also have a very positive impact on the relationships between parents, children and staff. A very small number of parents make up the actual committee, backed up by a great deal of support from many other parents at the school.
Why is our PTA a Registered Charity?
Any organisation that raises in excess of £5000 is required to be a registered charity by the Charities Act 2011. Drighlington Primary PTA is now a registered charity (registration number 1161619). As Drighlington Primary PTA is a registered charity there are a number of benefits to us which are:
We are able to apply for Gift Aid, which can earn us an extra 25p in every pound donated to the PTA, out of earned income.
People are more likely to offer time, energy or money to a registered charity
We can take advantage of charity matched giving schemes
Many grant-makers and other funders only give to charities
Many organisations offer free or discounted help and advice to charities
Promotes the message that our PTA is working for the benefit of others
Committee Members (updated 26.2.15)
Office Bearers/Trustees
The President – Sue Jackson
Chairperson – Hillary Holme
Vice-Chairperson – Sharon Grayshon
Secretary – Michelle Phillips
Treasurer – Jenny Hollies
Ordinary/Co-Opted Members
Phil Corbett
Louise Horsfall
Sarah Emmott
Sarah Cole
Nikki Ryder
Serina Dale
Dawn Hay
Pat Williamson
&nbsp
What have we achieved?
PTA achievements 2014-15
Easter Fair
The Easter Fair was a great success. The event raised £189.30.
Special Ladies Day
Thanks to all who supported Special Ladies Day. This raised a total of £149.84.
Pamper Evening
The PTA would like to thank everyone who supported this fun event and hope it was enjoyed by all. It was another successful event and raised a total of £521.16.
Breakfast with Santa
This was a new event, held for the first time this year. Families met with Santa and had an opportunity to have a family breakfast too. Whilst this was not planned as a fundraising event, £164.74 was raised through a small raffle. Another great success for our PTA!
Room of Surprises
This brilliant event was a success as usual, and most children in school had an opportunity to buy a secret gift for a family member. The total amount raised towards our target was £283.18. Thank you to everyone who supported the event.
Christmas Fair
Thank you to everyone who came along on Saturday 29th November. It was amazing! We organised stalls for adults and children, ran a Christmas café, and got Santa Claus to come along too! Children loved visiting him in the grotto. Our School Council held their Enterprise Project in classrooms. They sold products they had made themselves with enthusiasm and confidence.
After expenses, and with the addition of £579.60 (Barclays Matched funding), funds raised were a staggering grand total of £1721.76! We will soon publish winning raffle ticket numbers.
Halloween Disco
We would like to thank everyone for their amazing support. Once again we had a super Halloween Disco evening - children came along in fancy dress. The event raised £438.60!
Race Night
We held a Race Night at the Spotted Cow on Friday 17th October. It was a fun night for adults only. Our profit was an amazing £640.43! We would like to thank everyone who came along and made the night such a great success.
PTA achievements 2013-14
The discos held on the 22nd May raised £326.57 profit. Thank you to everyone involved. The children had a good time and the event was a success.
The Easter Eggstravaganza made £286.55, thanks for all those who attended.
Special Ladies Day raised £223.11.
Two free of charge movie afternoons were held in March as special treats for the children, the PTA provided refreshments and the children were given the opportunity beforehand for their film choice.
The Ladies Pamper Night at The Manor Golf Club was a fantastic success raising a massive £668.38.
The BAGS2SCHOOL event raised £130 for PTA funds. Thank you to everyone who contributed.
The Christmas Fair, held on Saturday 7th December 2013, was a great success. We would like to thank everyone who attended and all who helped us. We raised £1386.64.
After much counting for the Milk Bottle Challenge (thank you everyone who helped) the winning class was 4BD – Mrs. Dean with a huge £51.07. The total amount collected was £427.74 plus a tub full of global currencies!!
The Race Night, held 3.10.13, raised over £450 and was a great success.
The PTA Halloween disco, 23.10.13, was a great success and raised £546.57 (after costs were deducted from the takings of £747.56).
The PTA held their Annual General Meeting on the 14th November 2013, memberships were reviewed, accounts were shared and events were planned. The school would like to thank the PTA for their successes and continued support.
PTA achievements 2012-13
The PTA fundraising is very important to all the children of the school and the £1386.64 raised would not have been possible without the support of all the families that donate money, time and energy in order to make PTA events a great success. The PTA arranged successful discos for all children to enjoy.
PTA achievements 2011-12
Bouncy castles were hired and ice creams bought for all children to enjoy as a year end celebration event. The PTA arranged a picnic, bought medals for Olympic events and arranged for a theatre company to present a pirate show for the whole school to enjoy. There were also successful discos for the children to enjoy.
&nbsp
Comments (7)
Show Comments
Anonymous
(about a year ago)
I would like to say a huge thank you to the PTA for all you do. Your commitment to supporting school is amazing! Not only do you continue to raise funds to support whole school projects, you also create some memorable experiences for the children. Well done!
Nikki RAtcliff
(about a year ago)
id like to say how amazing the breakfast with santa was this morning georgia loved it amazing hard work well done pta team!!!! youve made my daughter soo happy this morning x
DG
(about a year ago)
Thank you to the PTA for all their hard work organising the Breakfast with Santa event today. We all had a fantastic time. It was lovely to take time out of our usual hectic schedules to enjoy a fun, family morning to kick start the Christmas celebrations. Everyone involved in running the event, including Santa, Elsa and Olaf, deserve a cheer for taking the time to make sure everyone was involved and had a great time. Well done!
anonymous
(about a year ago)
This morning we attended the Breakfast with Santa event organised by our PTA. It was a lovely morning which was very lovingly and thoughtfully put together. The children and adults thoroughly enjoyed themselves. We are very lucky to have our PTA.
M.L.
(about a year ago)
Great job PTA!
M.L
(about a year ago)
Great job PTA!
M.L.
(about a year ago)
Great job PTA!
Upcoming Events
2014-2015
Feb TBC Cookery Book.
March 13th Special Ladies Day.
Ladies Pamper & Shopping Event.
April 2nd Easter Fair.
Sponsored Bunny Jump Week.
May 2nd Leeds United Grassroots (Leeds v Rotherham).
20th Discos.
June 19th Special Misters Day.
TBC Sports Days.
July 4th Drighlington Funday.
17th Krispy Kreme Doughnut Sale.
Aug TBC Races – Ladies Day Out.
2013-2014
Disco night – 22nd May 2014
Special Gentlemen's day - 13th June 2014
PTA Krispy Kreme fundraiser day - 18th July 2014