Germany Blog
Germany Blog
germany on: Germany Blog
We all really enjoyed our trip to visit Cinderella, the Fairy Godmother and Mrs Buttons at Shibden Hall. It was a bit of muddy walk up to the hall but, when we got there, two lucky people were chosen to knock on the front door. We were all amazed when the Fairy Godmother opened the door and invited us in! Cinderella told us that her ugly step sisters and her nasty stepmother had all gone into town but had left her a long list of cleaning jobs to do, so we all helped out.
The Fairy Godmother showed us how to use a dolly tub with carbolic soap, a posser and a dolly to stir and wash the clothes. She even showed us the stepmother's very large knickers!! We helped Cinderella grind some coffee for her stepmother, it smelt really nice. After that, we helped her polish the door frames and had to polish the spoons until we could see our faces in them. Did you know that one side of the spoon turns your face upside down?! She also showed us the nursery and everyone was fascinated by the moving images inside the zoetrope and the fireman who could tumble down a ladder. Finally, Mrs Buttons showed us all the different types of carriages and we chose the best one to take Cinderella to the ball.
At the end of our trip we helped the Fairy Godmother perform some magic and Cinderella suddenly had an amazing dress to wear to the ball!
It was a great day out and all the adults were impressed by the behaviour of the children in both classes. So much so that everyone received 4 Dojos each. Well done Germany and Italy!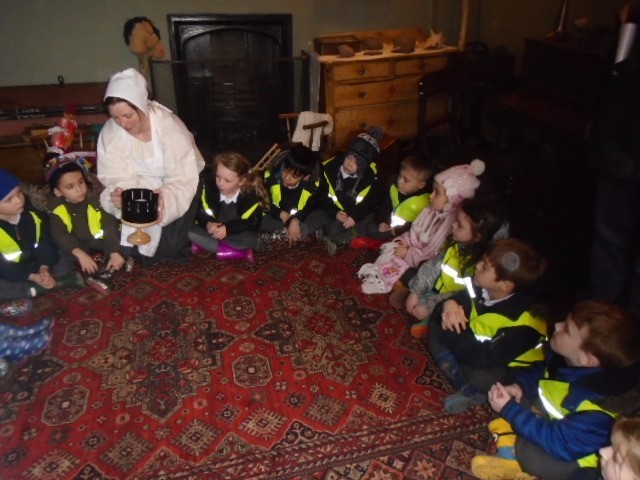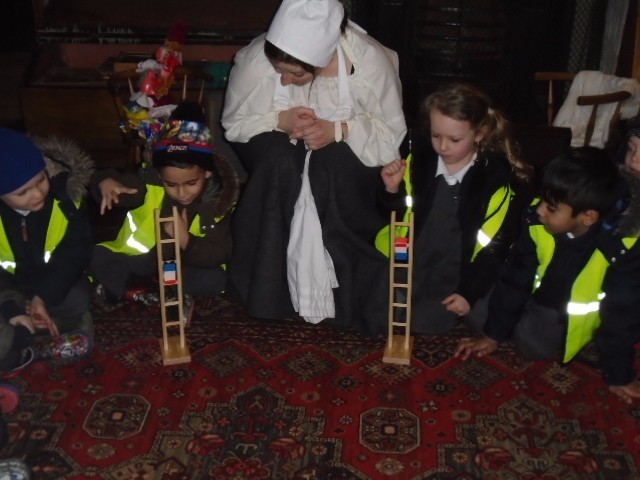 ---